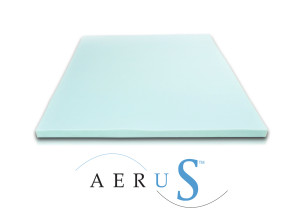 4lb Density in your choice of
2″, 3″, or 4″ thickness.
Aerus Natural™ Most memory foam mattresses are manufactured using petroleum-based raw materials and, in some cases, through a process that can release emissions into the atmosphere. The new Aerus Natural™ memory foam, however, provides an alternative, eco-friendly solution while still delivering the same high quality memory foam. Aerus Natural™ features more naturally occurring ingredients, which replaces some of the synthetic raw materials used in traditional memory foams. Aerus Natural™ is also manufactured through a revolutionary process that essentially eliminates the emissions released through other memory foam manufacturing. In addition to its green features, Aerus Natural™ is notable for its breathability.
Aerus™ 4lb Breathable Memory Foam Mattress Topper
Aerus™ with its unique high density open-cell memory foam offers a cooler, luxurious sleep surface with shape-conforming comfort, support and exceptional durability.The secret to the cool, technology leading comfort of Aerus is the superior air flow. Due to the special open-cell construction, Aerus allows air to flow through the material approximately eight times more efficiently than traditional visco elastic. This results in a cooler sleep surface that dissipates heat and moisture quickly to provide you with an enjoyable nights sleep. The benefits provided by the breathable Aerus memory foam is due to Foamex's patented VPF manufacturing process.The VPF process uses an enclosed chamber to hold atmospheric conditions at near constant levels and captures process emissions, which results in a superior product with less environmental impact than most traditional foam manufacturers.
The 4lb density provides exceptional support which reduces pressure points providing you with the best nights rest possible.
Aerus Product Features:
Shape conforming comfort and support
Up to 8 times the air flow efficiency of traditional memory foam
Dissipates heat up to 10 times faster then traditional visco elastic toppers
Superior cell structure
Exceptionally durable
Antimicrobial properties
Environmentally friendly VPF manufacturing technology for superior product and consistency
10 yr limited warranty (Foamex)
CAL TB117 regulatory compliance
Made in the USA
For additional information regarding Aerus memory foam: AERUS
CONTOUR MEMORY FOAM PILLOWS!
100% Visco-Elastic Memory Foam
Flexible, resilient and durable
Contours perfectly and molds to your shape
Zippered Removable Terry cover.
Temperature sensitive foam responds to heat for a soft, yet supportive pillow
Relieves pressure points, and Increases circulation for a deep rejuvenating sleep
Made in the USA
Pillow Foam made by Foamex
4.0 Pound Density (not too hard, not too soft)
Hypoallergenic
Quality Controlled by the manufacturer and tested by an independent lab