Our Plushest Model! Featuring Talalay Latex, Memory Foam & PillowFlex®
---
Call or live chat with us now for the guaranteed lowest price anywhere for the top-of-the-line
Innomax Medallion!
---
The independent blog 
Best Air

Mattress Guide
 recently
reviewed the Innomax Medallion bed
and it scored 49 out of a possible 50 points, their highest score ever given to an air mattress! They state: "This is the best air bed out there. The quality of the materials and it's features make it perfect."
---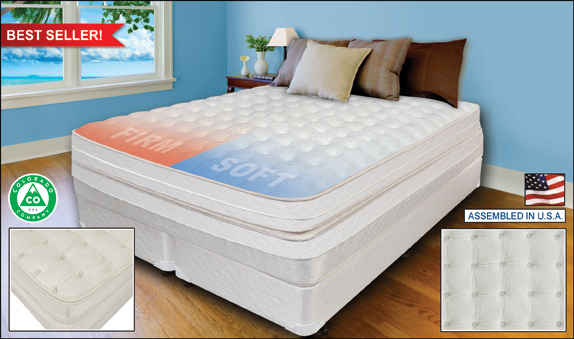 The bestselling, top-of-the-line Luxury Support ® Medallion features a first of its kind interchangeable Memory-Cell and Latex pillowtop. The pillowtop on the Luxury Support® Medallion boasts 1.5″ of 4lb density Memory Foam and 1.5″ of 19ild Talalay Latex inside of the exclusive dual zipper pillowtop.
What do we mean by "Dual Zipper" pillowtop?
The first zipper is for attaching the pillowtop to the base of the mattress. The second zipper is for accessing the foam IN the pillowtop itself. You will be able to switch out the foam at any time for any reason. This is a huge benefit, providing many options to both support and comfort layers.
---
Luxury Support ® Medallion Features
Sensuous Petme Mink feel cover is completely removable, refluffable
Reversible 3″ insert with earth friendly, naturally antimicrobial and incredibly resilient premium Talalay Latex on one side and the incredible contouring support of body temperature activated Memory-Cell Viscoelastic on the other side.
Tack-'n-Jump design reduces surface tension and eliminates fill shifting to provide a more enjoyable and restorative night's sleep.
Comfort layers of super plush hypoallergenic PillowFlex™, luxury loft fiber fill and super soft foam to enhance the contouring air flotation support.
Moisture barrier backing on pillow top, not found on competitive models, protects internal components for long trouble-free life and a healthier sleep environment.
Anatomic support layer with 8 U.S. patents and 26 international patents.
An F.D.A. registered medical device that optimizes support physics and provides 5 separately designed zones for head to toe comfort.
---
Digital Pump and Remotes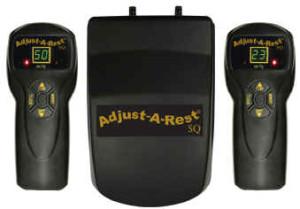 ADJUST-A-REST SUPER QUIET Air Inflator
The new Adjust-A-Rest™ SQ Air has a new sound dampening internal structure, which translates into Super Quiet operation for you! The new design features a suspended pump motor and rubber feet which helps eliminate vibrations while thicker insulated walls dampen most motor noise.
---
Genuine Vulcanized Rubber Air Chambers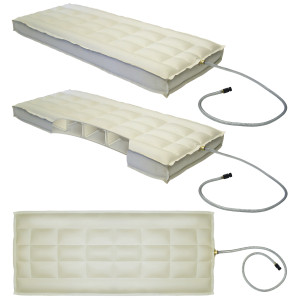 The air chambers are made from genuine European vulcanized rubber. They are cloth backed and double thick for durability and are a full 6 inches deep. The air chambers use a cross vertical and horizontal baffle construction that creates square pockets of air that provide uniform support and comfort from head to toe. The 25 gauge rubber uses a vulcanization process that virtually eliminates all seams. The material actually flows together and becomes a one piece construction. The natural cotton backing material is adhered chemically to the latex.
This creates a soft, smooth texture and at the same time eliminates air leakage through the pores of the rubber. The chamber borders are double seamed with two 1.25 inch seams, one reinforcing the other. Double sealing creates a more reliable support system for years of proven longevity and trouble free use.
---
Pricing and Ordering
Call or live chat with us now for the guaranteed lowest price anywhere for the top-of-the-line
Innomax Medallion!
Luxury Support Medallion AirBed SET
(mattress & matching foundation)
Our solid wood box foundation is eight inches thick and attractively upholstered in extremely durable matching fabric. Firm and flat, our foundation provides years of support for your new AirBed while protecting it from the soft spots and slats of traditional box springs.
---
Luxury Support Medallion AirBed Mattress
(No Foundation)
Unlike some competitors, you do not need to purchase the Innomax foundation for the 25 year warranty on their mattresses. If you currently own a quality solid-top boxspring/foundation or platform frame, you can certainly use it!
Upgrade your foundation by installing new, stylish
Universal Bed Legs. No more metal frames and their unsightly appearance!
---

Frequently Asked Questions
How can you sell these beds at prices so much lower than the "Mall Store" Beds?
All of our Air beds are manufactured in Denver, Colorado by Innomax, Inc, a true leader in the specialty bedding industry. They have been in business since 1975, and they are an internationally recognized company that offers over 1200 innovative, stylish and affordable products for the total sleep environment. Our ability to ship direct from the manufacturer to our customers, without the high overhead of brick and mortar showrooms, allows us to offer these high quality beds at substantial savings over standard retail.
Are these beds comparable in quality to the "Mall Store" Beds?
Yes! We truly feel that these are the best made, best value airbeds on the market.
What sizes of air beds do you carry?
California King measures 84″ x 72″Eastern King measures 80″ x 76″Queen measures 80″ x 60″Single Air Chamber Queen measures 80″ x 60″ Full measures 54″ x 75″(special order-3-5 weeks delivery)
Twin XL measures 38″ x 80″
When will my new air bed ship?
Generally your new air bed will ship within 72 hours after placing your order. Shipping time varies from 2 to 5 business days, depending on what part of the country you are in.
Is assembly difficult?
Not at all. Assembly takes only 20-30 minutes with no tools required*.*If you order the foundation and bedlegs to go with your airbed, you will need to drill pilot holes for the bedlegs.
Do you offer a 30 day sleep trial?
Yes! We offer a 30 day, money back guarantee on our Sleep Systems. You can return within 30 days from its delivery and receive a refund of the purchase price less original shipping and handling charges. Return shipping charges are to be prepaid by the customer. In order to give your mattress a fair trial, we ask that you try out the mattress for a minimum of 2 weeks. If after that time you still feel it is not the best sleeping surface for you, simply call us toll free at 1-888-660-3425 to arrange return authorization. We will then give you the return shipping instructions. The returned mattress must include the original boxes and bags.
---
Email us for the guaranteed lowest price anywhere for the top-of-the-line Innomax Medallion!
---
Select Comfort is a registered trademark of Select Comfort Corporation of Minnesota. Select Comfort is not affiliated with BestBeds.biz LLC and does not sponsor this web site. This web site does not sell Sleep Number ® beds or Select Comfort ® products.